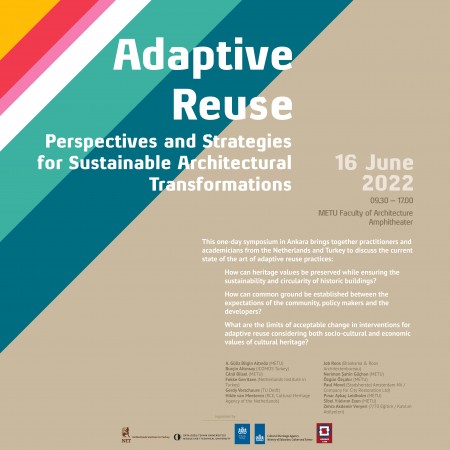 This one-day symposium in Ankara brings together practitioners and academicians from the Netherlands and Turkey to discuss the current state of the art of adaptive reuse practices:
How can heritage values be preserved while ensuring the sustainability and circularity of historic buildings?
How can common ground be established between the expectations of the community, policy makers and the developers?
What are the limits of acceptable change in interventions for adaptive reuse considering both socio-cultural and economic values of cultural heritage?
The symposium will be followed by the opening of the exhibition Old Buildings, New Uses which showcases adaptive reuse projects in the Netherlands and Turkey. The Adaptive Reuse: Perspectives and Strategies for Sustainable Architectural Transformations Symposium is organized by the Netherlands Institute in Turkey (NIT) and the Middle East Technical University Graduate Program in Conservation of Cultural Heritage in partnership with the Netherlands Diplomatic Mission to Turkey, Cultural Heritage Agency of the Netherlands, and the Association of Conservation and Restoration Specialists in Turkey (KORDER).
Attendance is free, but registration for the symposium is necessary for those coming from outside METU. Those who would like to attend the event should send an e-mail to esrae@metu.edu.tr by the end of 14 June. The event will be held in English but simultaneous interpretation into Turkish will be provided.
Date & Time: 16 June 2022, Thursday, 09:30 - 17:00 (Istanbul time)
Location: METU Architecture Amphitheater
Symposium Program 16 June 2022 | 09.30 – 17.00

09.30 – 10.00 | Opening Speeches
Özgün Özçakır (Chair of the Board, KORDER)
Fokke Gerritsen (Director of NIT)
A. Güliz Bilgin Altınöz (Director of Graduate Program in Conservation of Cultural Heritage, METU)
Neriman Şahin Güçhan (Dean of The Faculty of Architecture, METU)

10.00 – 10.45 | Keynote Speech
Intervention Strategies and Adaptive Reuse in the Netherlands
Job Roos (Braaksma & Roos Architectenbureau)
Discussant: Pınar Aykaç Leidholm (Graduate Program of Conservation of Cultural Heritage, METU)

10.45 - 11.15 | Coffee Break

11.15-12.45 | Session #1
Layered Heritage and Adaptive Reuse: Historical, Cultural and Environmental Dimensions
A. Güliz Bilgin Altınöz (METU)
Gerdy Verschuure (TU Delft)
Hilde van Meeteren (RCE, Cultural Heritage Agency of the Netherlands)
Moderator: Sibel Yıldırım Esen (Graduate Program of Conservation of Cultural Heritage, METU)
12.45 – 14.00 | Lunch Break

14.00 – 15.00 | Session #2
Sustainable Solutions and Adaptive Reuse
Paul Morel (Stadsherstel Amsterdam NV / Company for City Restoration Ltd)
Zehra Akdemir Veryeri (7/70 Eğitim / Katılım Atölyeleri)
Moderator: Fokke Gerritsen (Director, Netherlands Institute in Turkey)

15.00 - 15.30 | Coffee Break

15.30 – 17.30 | Panel
Past, Present and Future of Adaptive Reuse
Neriman Şahin Güçhan (METU)
Burçin Altınsay (ICOMOS Turkey)
Cânâ Bilsel (METU)
Paul Morel (Stadsherstel Amsterdam NV / Company for City Restoration Ltd)
Job Roos (Braaksma & Roos Architectenbureau)
Hilde van Meeteren (RCE, Cultural Heritage Agency of the Netherlands)
Gerdy Verschuure (TU Delft)
Moderator: Özgün Özçakır (Graduate Program of Conservation of Cultural Heritage, METU)

17.30 – 19.00 | Exhibition Opening and Cocktail @ METU Faculty of Architecture