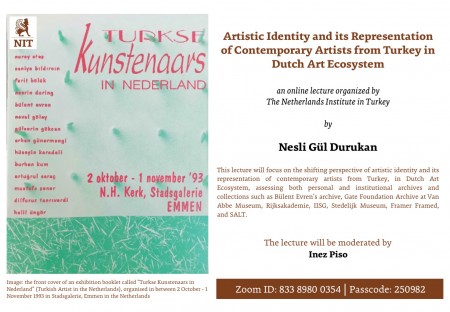 Image: the front cover of an exhibition booklet called "Turkse Kunstenaars in Nederland" (Turkish Artist in the Netherlands), organised in between 2 October - 1 November 1993 in Stadsgalerie, Emmen in the Netherlands
This lecture will focus on the shifting perspective of artistic identity and its representation of contemporary artists from Turkey, in Dutch Art Ecosystem, assessing both personal and institutional archives and collections such as Bülent Evren's archive, Gate Foundation Archive at Van Abbe Museum, Rijksakademie, IISG, Stedelijk Museum, Framer Framed, and SALT.
In the light of the very first findings of an ongoing project of "The Impact of Contemporary Artists, from Turkey, on Dutch Art Ecosystem", the lecture will present and discuss how contemporary artists with non-Western backgrounds have been represented in exhibitions, museum collections, and media and how labels have been changing in time, with critical perspectives on the dominant art history and policies on culture and art in the Netherlands.
The lecture will be held in English.
No registration is required for this event. You can use the Zoom ID 833 8980 0354 and Passcode 250982 to join the lecture. Or click here for the Zoom link.
Nesli Gül (PhD) is currently working on her long-term project "The Impact of Contemporary Artists, who moved from Turkey, on Dutch Art Ecosystem" as a curator and researcher, funded by Mondriaan Fonds and NIT. She is also co-founder of NonSpace, an art platform that offers borderless spaces for artists to establish a dialogue in a digital world besides the physical one. Gül completed her PhD degree on Evaluation of the Use of Archive and Memory in Exhibition Practices of Contemporary Art Institutions in Turkey (2019) in Art and Design at Yıldız Technical University and was a visiting scholar for her PhD research in Art History and Amsterdam School for Heritage, Memory, and Material Culture at the UvA (2017-2018) funded by TUBITAK. She holds an MA on Interactive Spaces in Art Museums in Museum Studies (2014) and a BA in Art Management (2009) at YTU.
She worked as an academician in the Art and Design Faculty at YTU (2012-2019) and also worked on 'Photo Galatasaray' project in SALT Galata (2010-2011), İstanbul. Gül raised critical issues in exhibitions as a curator, such as in the exhibitions Point Counter Point (Space Debris, 2016-17) or Hidden Screenplays (Sazmanab, 2012) and developed and contributed several research-based projects, one of them is 'The Inventory Study on Exhibited Installations in Public Sphere in İstanbul' (2018). Her articles have been published in both academic journals and art magazines, such as Archives and Records, Metropolis M, Framer Framed, Sanat Dünyamız, and RH+ Art, among others.
Inez Piso is a writer, translator and curator who worked at the CA2M and ARCO in Madrid. She was part of the research programme of IKSV with the Huzun Project and worked for After the Archive? in Istanbul. Currently she is the curator of the Amsterdam Ferry Festival and Artistic Director of the HMK in Hoorn, the Netherlands.