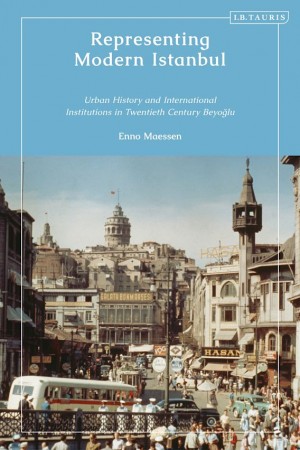 Enno Maessen, who was an NIT fellow in 2013 while doing his doctoral research and a frequent user of the library since then has published a new book Representing Modern Istanbul: Urban History and International Institutions in Twentieth Century Beyoglu by I.B. Tauris. Moderated by Nilay Özlü, this book talk will be held on 9 June 2022, Thursday, at 18.30 at the ANAMED Auditorium.
Following the collapse of the Ottoman Empire, Istanbul would lose its position as capital yet remain a crucial urban centre in the new Turkish republic. Since the 1950s it has undergone a metamorphosis from a mid-sized city to a megapolis. Beyoglu, historically represented as its most 'cosmopolitan' district and home to European embassies and cultural institutions, is a microcosm of these changes. This book explores the urban history of Beyoglu via a series of case studies which use previously unexamined archival material to tell the story of its local and international institutions. From the German Teutonia club and a centre point of Turkey's cinema culture to influential francophone, British and German schools which educated many of Turkey's future elite, the book charts the shifting identities of the residents of the district. These case studies reveal the effects of changing political circumstances, from the rise of nationalism to Turkey's place in the Cold War, as well as critically examining Beyoglu's legacy as a multicultural centre. In the process, the book reveals a picture of resilience, cross-cultural contact and provides an important contribution to our understanding of present-day and historical Istanbul and Beyoglu.
Table of Contents
Introduction
1. Istanbul and Beyoglu in the Nineteenth and Twentieth centuries
2. Bosphorus Germans and the Teutonia Club
3. Yesilçam Street or Turkish Hollywood: Novel Cultural Industries in Beyoglu
4. A Francophone National Institution: Galatasaray High School
5. Beacon of Britishness: the English High School for Girls
6. The Pivot of German Cultural Diplomacy in Turkey: The German High School
Conclusion and Epilogue
Enno Maessen is Lecturer in History at Utrecht University, the Netherlands. He has (co-)authored articles and reviews in Patterns of Prejudice, Middle Eastern Studies, The Journal of the Ottoman and Turkish Studies Association, Journal of World History, and International Journal for History, Culture and Modernity.
Nilay Özlü is an architectural historian with a focus on the urban culture of Istanbul, late-Ottoman history, museum studies, and court culture. She received the Samuel H. Kress Foundation Fellowship by the Society of Architectural Historians, the Barakat Trust Award by Oxford University and Getty Foundation Connecting Art Histories Scholarship. Özlü is an Assistant Professor at Bilgi University, teaching architectural design, history, and theory.
About the location
Istanbul
Contact person
Aysel Arslan
aysel.arslan@nit-istanbul.org