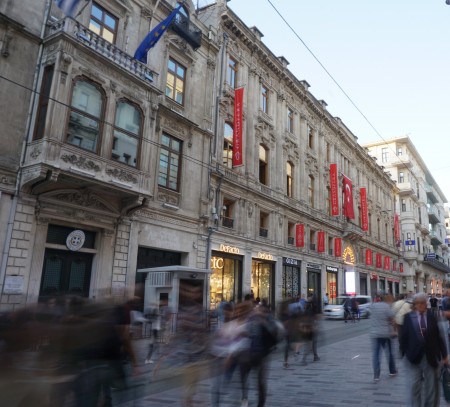 Image: Greek Consulate, Cercle d'Orient, and Demirören shopping mall on Istiklal Street, photo by Enno Maessen
This event, the fourth of the "Meetings on Diversity and the Livable City" series co-organized by the NIT and the Netherlands Consulate General in Istanbul, will concentrate on the changing patterns of diversity that have characterized Beyoğlu/ Pera since the 19th century through contemporary times. It will address the varying experiences, social conflicts, and representations with regards to the socio-economic and cultural forms of diversity in the district, which has long been associated with "cosmopolitanism" within the cultural imagination of Turkish upper classes and the international academia.
Programme:
17:00 - 17:10: Opening
17:10 - 17:40: K. Mehmet Kentel (Istanbul Research Institute)
"Days of cosmopolitan future past: Rethinking Pera's 19th-century through material infrastructures"
17:40 - 18:10: Enno Maessen (University of Amsterdam)
"Beyoğlu's continuities and discontinuities reconsidered in the period of 1950 – 1990"
18:10 - 18:30: Coffee break
18:30 - 19:00: Mine Eder (Boğaziçi University) and Özlem Öz (Boğaziçi University)
"Rethinking cosmopolitanism and spatial justice: Demands, cries and whispers from Istanbul's Beyoğlu neighborhood"
19:00 - 19:30: Discussant remarks by Edhem Eldem (Boğaziçi University & Collège de France)
19:30 - 20:00: Discussion
"Days of cosmopolitan future past: Rethinking Pera's 19th-century through material infrastructures" by K. Mehmet Kentel
In the nineteenth century, the Pera (Beyoğlu) district of Istanbul became an internationally recognized center of commerce, finance, culture, art, and recreation, in the context of the empire's rapid integration into world capitalism. Even though the district's nineteenth century has a larger-than-life representation in popular literature and popular history-writing, the existing scholarship is limited and—not unlike its popular representations— marred with cosmopolitan nostalgia, except for some notable exceptions. Pera's rise to prominence in the nineteenth century has been studied as an experiment in municipal governance, modernization in urban space, and cosmopolitan sociability. This presentation attempts to show that it was first and foremost a material process, which remade a complex and extended geography within and beyond Pera's boundaries in fundamentally unequal ways. This undertaking challenges the frame of cosmopolitanism under which the district's and other Mediterranean port-cities' stories have been conventionally told. Rather than taking Pera's 'cosmopolitan' identity as a given, this work uses the history of infrastructures to explore the material conditions of possibility of the district's claim to such fame. It concludes with a suggestion to reframe Pera's cosmopolitanism from a supposed socio-historical reality, to a potential, waiting to be discovered in the days of future past.
K. Mehmet Kentel works on the urban and environmental history of late Ottoman Istanbul. He is the Research Projects Manager at the Istanbul Research Institute. He received his Ph.D. from the University of Washington in 2018 with his dissertation, "Assembling 'Cosmopolitan' Pera: An Infrastructural History of Late Ottoman Istanbul." He has most recently curated Memories of Humankind: Stories from the Ottoman Manuscripts, at the Istanbul Research Institute (October 18, 2019 – July 25, 2020). Kentel is the Associate Editor of YILLIK: Annual of Istanbul Studies. Previously he was the Head Librarian of ANAMED, and worked as a consultant and scriptwriter for the exhibition The Characters of Yusuf Franko: An Ottoman Bureaucrat's Caricature in 2017.
"Beyoğlu's continuities and discontinuities reconsidered in the period of 1950 – 1990" by Enno Maessen
For the past thirty years, Istanbul's central Beyoğlu district has been the subject of an ever-increasing amount of attention. From the late 1980s onwards, following intense urbanization and a near-complete demise of the historical communities in the district, a growing appreciation of the "non-Muslim quarters" of the former Ottoman city could be witnessed. As scholars have indicated consequently a nostalgic image of a fin-de-siècle Beyoğlu as cosmopolitan and bohemian gone for good was cultivated. What was particularly problematic in these representations, was that the attention for more contemporary dimensions of the district's historical and spatial complexity became marginalized. Similar to the history writing on various other urban centres in Europe, more attention is attributed to Beyoğlu's nineteenth and early twentieth century, due to which effects of contemporary urbanization on "old" and "new" urban communities are largely ignored in narratives of the city. This presentation, based on my recent Ph.D. research, enquires the question of how communities in and of Beyoğlu have imagined themselves between 1950 and 1990 in relation to their surroundings. I show how divergent representations of so-called cosmopolitanisms, decay, and dichotomies between low-culture and high-culture can be instrumentalized and reoriented by a diverse range of communities for purposes of claiming place for one's own community, and excluding others – explicitly or implicitly – from the same right.
Enno Maessen is a junior lecturer at the Department of European Studies at the University of Amsterdam. He is trained as a historian, with a particular interest in urban history and the history of the Mediterranean region. He received his Ph.D. from the University of Amsterdam in 2019, with a thesis titled: Building Beyoğlu – Histories of Place in a Central District in Istanbul.