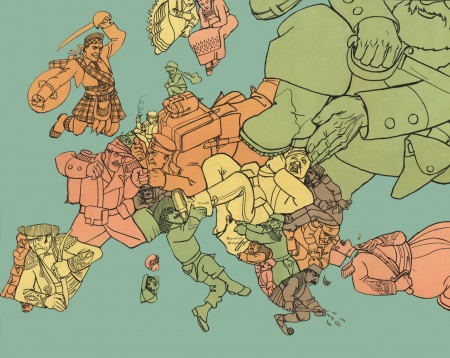 Conference
The Study Platform on Interlocking Nationalisms (website) of the University of Amsterdam, in collaboration with the Netherlands Institute in Turkey organizes a two-day conference on nation-building and nationalism in Turkey and Europe. The conference will be hosted at the Netherlands Institute in Turkey, Istanbul from 26 until 27 May 2016. Please note that this event is not the same as the public lecture which will be hosted by the Consulate General of the Netherlands in Turkey. The conference is invitation-only. For more information contact Enno Maessen at ennomaessen@uva.nl.
Objectives
The main objective of this conference is to consider the rise of nationalisms and pan-nationalisms in the late Ottoman Empire and nation-building in the early Turkish Republic within a broader European context. The demise and collapse of the Ottoman Empire coincided with the rise of nationalist and pan-nationalist ideologies in the centre and peripheries of the empire. In this conference we aim to investigate the formation of ethnic and other post-imperial identities in the former Ottoman Empire and consider these within a broader framework of emerging post-imperial identity formation in Europe.
Click here to see the program and abstracts for the conference.
Image: Louis Raemaekers, "Het gekkenhuis" (1914) | satirical map of Europe made on the eve of World War I | © Louis Raemaekers Foundation (www.louisraemaekers.com).