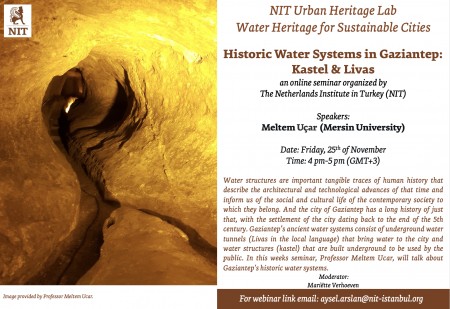 Water structures are important tangible traces of human history that describe the architectural and technological advances of that time and inform us of the social and cultural life of the contemporary society to which they belong. And the city of Gaziantep has a long history of just that, with the settlement of the city dating back to the end of the 5th century. Gaziantep's ancient water systems consist of underground water tunnels (Livas in the local language) that bring water to the city and water structures (Kastel) that are built underground to be used by the public. For this week's webinar, Meltem Uçar (Mersin University) will focus on Kastel and Livas, the historic water systems in Gaziantep.
NIT Urban Heritage Lab is an initiative of the Netherlands Institute in Turkey that investigates the role of tangible and intangible cultural heritage in achieving inclusive, circular, and sustainable cities. After the successful 2021 UHL course on Industrial Heritage, the Netherlands Institute in Turkey, in collaboration with Middle East Technical University (METU), Radboud University, LDE Centre for Global Heritage and Development, and the Netherlands Consulate-General in Istanbul, offers a series of public webinars on Water Heritage for Sustainable Cities. These webinars address past experiences and current and future challenges of urban water supply. With a focus on Istanbul's water heritage, the program explores how water heritage can act as a driver for sustainable development and raise awareness of contemporary water issues worldwide.
During November and early December, webinars take place on Fridays between 4 pm and 5 pm Istanbul time.
Date: 25 November 2022, Friday
Time: 4 pm - 5 pm (Istanbul time)
The event will be online. The session will be in English.
Please follow the link to register for the webinar.
Image provided by Meltem Uçar