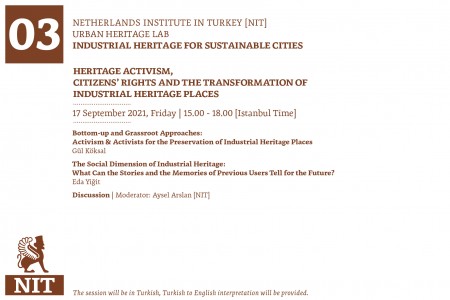 The third week of the Industrial Heritage for Sustainable Cities course focuses on heritage activism and the social dimensions of industrial heritage. The webinar will take place on 17 September 2021, Friday at 15.00 [Istanbul time]. You can follow the public presentations and discussions by registering here for the webinar.
HERITAGE ACTIVISM, CITIZEN'S RIGHTS AND THE TRANSFORMATION OF INDUSTRIAL HERITAGE PLACES
Bottom-up and Grassroot Approaches: Activism and Activists for the Preservation of Industrial Heritage Places
by Gül Köksal
The Social Dimension of Industrial Heritage: What Can the Stories and the Memories of Previous Users Tell for the Future?
by Eda Yiğit
Discussion | Moderator: Aysel Arslan
The session will be in Turkish, Turkish to English interpretation will be provided.