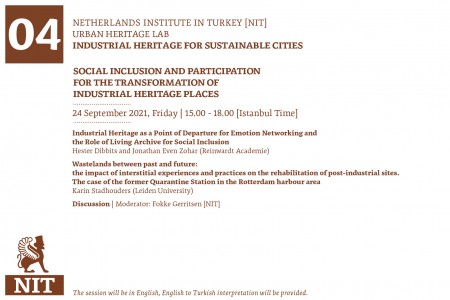 The fourth week of the Industrial Heritage for Sustainable Cities course takes us to Europe, focusing on social inclusion and participation. The webinar will take place on 24 September 2021, Friday at 15.00 [Istanbul time]. You can follow the public presentations and discussions by registering here for the webinar.
SOCIAL INCLUSION AND PARTICIPATION FOR THE TRANSFORMATION OF INDUSTRIAL HERITAGE PLACES

Industrial Heritage as a Point of Departure for Emotion Networking and the Role of Living Archive for Social Inclusion
by Hester Dibbits and Jonathan Even Zohar (Reinwardt Academie)

Wastelands between Past and Present: The Impact of Interstitial Experiences and Practices on the Rehabilitation of Post-industrial Sites. The case of the former Quarantine Station in the Rotterdam harbour area
by Karin Stadhouders (Leiden University)

Discussion | Moderator: Fokke Gerritsen

The session will be in English. English to Turkish interpretation will be provided.