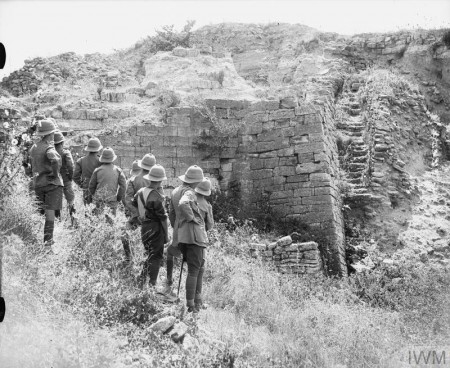 Image: British soldiers tour the ruins of Troy during leave from the Gallipoli Peninsula, 1919. Imperial War Museums.
This online lecture by the beloved NIT team member and historian Ceren Abi, entitled "Soldiers, Scholars, and the Public: Archaeology during the First World War in the Ottoman Empire", will be held online on May 29 starting at 7 pm, Istanbul time.
This talk will discuss the motivations, opportunities, and activities of scholars and soldiers with archeology and other cultural heritage-related activities and their reception by the public during the First World War. With the start of the war, scholars joined the war effort; the excavations sites were abandoned, public interest waned as the brutality of the war grew worse every day. However, the war created many new opportunities for all belligerents. Bombings, trenches, airplanes all contributed to the technical possibilities of archeology. At the same time, protection, and appreciation of cultural heritage, including archeology became one of the tools of the war. The public opinion became another battleground.

Ceren Abi received her Ph.D. from History at UCLA, her M.A on European History at Leiden University with a special Europaeum Program with Sorbonne, Paris I and Oxford University). She is working on the Cultural and Social history of the Middle East and North Africa, the late Ottoman Empire, the First World War, and the cultural heritage especially in times of armed and social conflict. She is a member of the NIT team.
To join us at this lecture please fill this form.