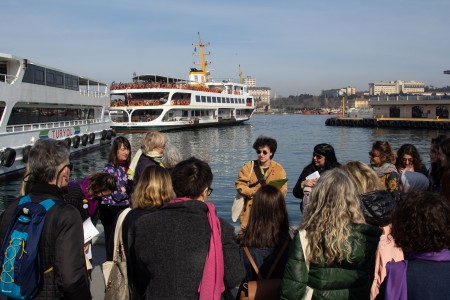 Image: Photo from Curious Steps gender and memory walks held in Istanbul.
Workshops on Urban Memory Walks
Urban memory walks are increasingly realized as a way for people to discover and experience firsthand connections between places, histories, and memories. Memory walks appear to be suited particularly for shedding light on stories that fall outside mainstream history discourses, because they focus on memories of minority groups and subcultures, on (auto-)biographies and individual life histories, or on topics currently under public debate. Memory walks vary greatly in the topics highlighted, in the intended participants (locals, students, tourists), and in the organizational setup. But they share the idea that walking through spaces and sites of memory offers a powerful way of gaining awareness about history and heritage, on a more direct and personal level than through other channels.
The Netherlands Institute in Turkey, in collaboration with the Netherlands Consulate General in Istanbul, will bring together organizations and individuals, from the Netherlands and Turkey, to discuss memory walks in a series of workshops. We intend to create a platform for dialogue and exchange for the producers of memory walk initiatives to share their experiences and best practices, and talk about their aims, audiences, challenges, and successes.
LGBTI-themed Memory Walks
The first workshop will focus on the LGBTI-themed memory walk initiatives and include LGBTour in Amsterdam (Sanne Pols), Şişli Çarkı Project (Hasan Ekiz and Hakan Bardakçı), and Curious Steps (Özge Ertem, İlayda Ece Ova, and Selen Çatalyürekli). Minem Sezgin of the No Seat At The Table project previously supported by the NIT will moderate the workshop and the following meetings in the series. The event will be held online on December 3, Thursday, between 6 pm - 8 pm Turkish time (GMT +3).
For getting registered, please fill out the form. The zoom link will be sent to the registered participants on the day of the event. Please do not forget to check your spam folders as well for the zoom invitation.