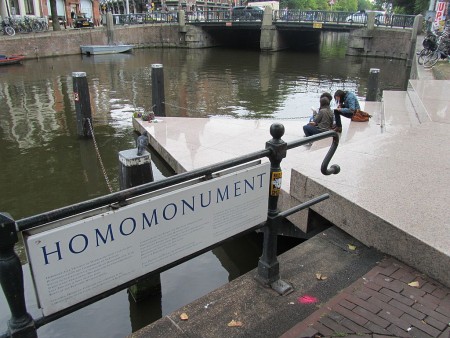 Image: The Homomonument in Amsterdam, showing the info sign and one of the three triangles. Wikimedia Commons.
The Netherlands Institute in Turkey has been organizing the event series titled "Meetings on Diversity and the Livable City" that started in 2019 in collaboration with the Netherlands Consulate General in Istanbul. "Queer Spaces" mini-symposium is a part of this series. The event aims to convene comparative perspectives on sexual diversity, memory politics, and urban inclusivity in Turkey and the Netherlands. Presenters will discuss the various aspects of queer experience as it unfolds and inscribed in the urban space in Istanbul and Amsterdam.
Freek Janssens (COC Netherlands & University of Amsterdam) will discuss how the Homomonument in Amsterdam, one of the first monuments dedicated to the lives of gay men and lesbian women, deals with the challenge of being a 'gay monument' in contemporary 'queer times.' Janssen's presentation draws upon the fieldwork that he conducted for the Queer Memorials project at the University of Leeds. Sema Semih (SU Gender) and İlayda Ece Ova (SU Gender) will present the Curious Steps Program which reclaims the alternative histories of LGBTİ+ people and women, and demonstrate the critical and creative potentiality of public storytelling as an alternative way of knowledge production and queer/feminist pedagogy. Dilara Çalışkan (University of Illinois at Urbana-Champaign) will trace the circulation of gendered memories of Istanbul within the everyday practices of trans mother/daughterhoods by focusing on two Beyoğlu neighborhoods. Ayşe Gül Altınay (Sabancı University) will contribute to the event as discussant.
Abstracts and speakers' bios can be downloaded here.
Programme
 18:00 – 18:10 Welcome
 18:10 – 18:35 Freek Janssens (COC Netherlands & University of Amsterdam)
Gay monuments in queer times
 18:35 – 19:00 Dilara Çalışkan (University of Illinois at Urbana-Champaign)
"I wish these streets could speak" Curious encounters of family and memory among trans women in Istanbul
 19:00 – 19:25 İlayda Ece Ova (SU Gender) and Sema Semih (SU Gender)
Curious Steps: Healing through collective walking and storytelling
 19:25 – 19:40 Coffee break
 19:40 – 20:00 Concluding remarks by Ayşe Gül Altınay (Sabancı University)
 20:00 – 20:30 Discussion