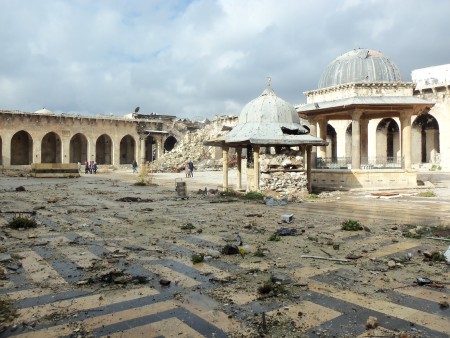 Destruction of cultural heritage has escalated in Syria and Iraq as the ongoing armed conflict has spread to ancient cities. The destruction in Syria and Iraq has deliberately targeted archaeological monuments dating from the prehistoric, Byzantine, Roman, and Islamic periods, with no distinction being made of the cultural, historical, and socio-economic significance of such sites. The violence of this conflict is not, or course, limited to the destruction of cultural property, and has first and foremost served to create a humanitarian catastrophe. More than 10 million people have left their homes and have been internally displaced or sought refuge in neighboring countries (Turkey, Jordan, and Lebanon). Others have made their way through the Mediterranean to reach northern Europe, stirring up political tensions and debates about the rights of migrants and refugees.
In this lecture, Nour A. Munawar will explore attitudes to cultural heritage among displaced peoples and refugees. The destruction and re-purposing of monuments in their former homelands, such as Daesh's attempts to turn churches into mosques, are heavy-handed attempts to re-write history by erasing physical evidence. Nevertheless, she will suggest that a strong sense of identity and cultural heritage remains in the memories of the displaced. How can these memories be sustained? Can they be put to use to maintain identities through transnational networks? She argues that it is important that the local population is fully incorporated into the re-construction process when the war ends, and that they are given back the right to decide how their country should be re-built. This will be a complex process, however, and given the wide-spread dispersal of displaced people we will need to devise new ways to allow these war-survivors to provide evidence to future decision-makers and donors.
Nour A. Munawar is a PhD researcher in Archaeology at the University of Amsterdam (UvA), Netherlands. Nour's PhD project is about: The (Re)construction of Syrian and Iraqi Cultural Heritage in Post-Conflict Contexts. He is a UNESCO expert on Safeguarding Syrian Cultural Heritage and Member of The International Council on Monuments and Sites (ICOMOS-Nederland).
Image: Great Umayyad Mosque of Aleppo - December 2017 - Photo Credit Louay Dakhel