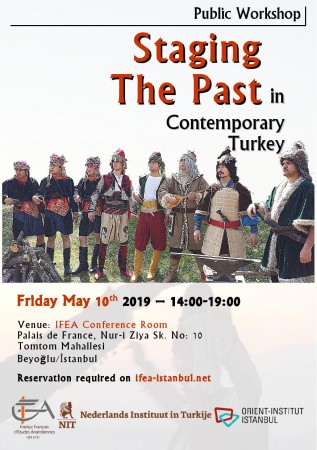 This public workshop is co-organized by the Orient Institut-Istanbul (OII), the French Institute for Anatolian Studies (IFEA), and the Netherlands Institute in Turkey (NIT). It aims to discuss the cultural and artistic performances representing past traditions of Turkey and Anatolia. The panels will focus on music and dance specifically, as cultural practices reinforcing the establishment of historical reflexivity.
You may see the detailed program here.
Registration is required for this event. For getting registered, visit here.
PROGRAM
* 14:00 Welcome speech by Bayram Balcı (Director, IFEA)
* 14:10 INTRODUCTION
Neo-Cultures in Turkey: Cultural Revivals, Nostalgia and Performing Traditions since the 1990s (Ülker Sözen, NIT)

* 14:30-16:00 PANEL 1: PERFORMING THE OTTOMAN PAST
The Music of Ottoman-American Diaspora in the Early Twentieth Century
(Mustafa Avcı, Altınbaş University)

Ottoman Music and Historically Informed Performance Practice
(Judith Haug, OII)

Mevlevi Sema in Contemporary Turkey: The Culturalization of a Sufi Ritual
(Ayşe Akyürek, IFEA)
* 16:30-18:00 PANEL 2: ANATOLIA OF THE PAST IN CONTEMPORARY TURKEY

"The Efe Walks". Staging a Late Ottoman Figure in Contemporary Western Anatolia
(Lydia Zeghmar, IFEA)

Afro-Turks and Revitalization of the Calf Festival (Dana Bayramı)
(Fahriye Dinçer, YTU)

Music within the Neo-Dersim Revival
(Martin Greve, OII)
* 18:00 Concluding speech by Arzu Öztürkmen (Boğaziçi University)
About the location
IFEA
Palais de France, Nur-i Ziya Sk. No: 10 Tomtom Mahallesi Beyoğlu/İstanbul