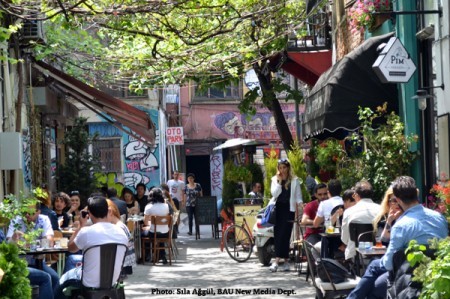 International Seminar, organized by the Netherlands Institute in Turkey, in collaboration with Jan Rath (University of Amsterdam) and Volkan Aytar (Bahçeşehir University)
The transformation of the manufacturing economy to the—what Alan J. Scott would label—cognitive-creative economy, and the concomitant concentration of high-skilled professionals in urban centers has led to the proliferation of new forms of urbanism. Today's urban professionals tend to have an individualist outlook on the world and cherish aesthetics, creativity and entrepreneurialism. In an increasingly volatile urban environment, they develop their own, quasi-autonomous work and life trajectories and display hipster-like life-styles that allow them to distinguish themselves from significant others. But they are, at the same time, continuously seeking for connection and confirmation—either on site or in the virtual world.
New type of urbanism becomes visible and palpable in various urban scenes, for example at farmer's markets, in gyms, hotel lounges, pop-up stores, and—in this particular case—in specialty coffee bars. These scenes, then, are often associated with gentrification processes and epitomize the economic, socio-demographic and cultural changes in urban milieus. Interestingly enough, these phenomena can be observed in numerous urban centers, including New York, London and Amsterdam, but also in Shanghai, Cape Town and Istanbul. As for the latter, anyone strolling through Moda, Cihangir, Galata, Tophane or, more recently, Karaköy cannot escape witnessing this.
These rapid developments raise various questions. Which structural determinants are producing the proliferation of hipsterful urbanism in general and the sprouting of specialty coffee bars in particular? What type of scenes are emerging in terms of ambiance and array of products, activities, and the identity and relationships of the participants. What can we say about the interrelationship between young urban professionals, individualism, distinction, and connection? And to what extent are we observing general processes to be found in any postindustrial city, or locally-specific processes?
These issues will be addressed during an international seminar at the Netherlands' Institute in Turkey (NIT). Here, we will discuss these questions by comparing experiences in Istanbul and Amsterdam.
Program
13:30 Registration, Coffee/Tea
14:00 Opening and welcome
Dr. Fokke Gerritsen,
Director, Netherlands Institute in Turkey (NIT)
Prof. Dr. Haluk Gürgen,
Director, Bahçeşehir University Creative Industries Center (BAUCIC)
14:10: Coffee in the City: Introduction
Prof. Dr. Jan Rath
Amsterdam University
14:25: Video: "Shades of Coffee"
Bike Çetinel
BAU Dept of New Media
14:30: Amsterdam: Gentrification by Cappuccino
Prof. Dr. Jan Rath
Amsterdam University
14:50: Video: "Café Latte Transforming Karaköy"
Cansu Uçar &Melis Kürkçü
BAU Dept of New Media
15:00: "Third Wave Coffee Culture"
Deniz Koşan
Walter's Coffee Roastery
15:15 Coffee Break
15:30: Istanbul: Galata-Karaköy-Tophane-Salıpazarı Strip:
A Research Agenda Proposal for
Human Geography and Spatial Sociology
Dr. Volkan Aytar
Deputy Director, Bahçeşehir University Creative Industries Center (BAUCIC)

15.50: Video: Meanwhile in Okmeydanı… /
"Square: To Comprehend a Neighborhood"
Hakan Güngör, Ahmet Aslan, Jiyan Yetiş Paycu
BAU Dept of New Media
16:00 Bohemian Bourgeois (BoBo) Café from Nişantaşı to Karaköy
Kübra Par
HaberTürk daily newspaper
16:20: Questions & Answers / Additional Contributions from the Floor
17:00: Adjourn