17 Feb '20
NIT Internship Applications for Summer 2020 is now open!
The Netherlands Institute in Turkey (NIT) is inviting students to apply for our internship opportunity in Istanbul, Summer 2020. Deadline April 19th!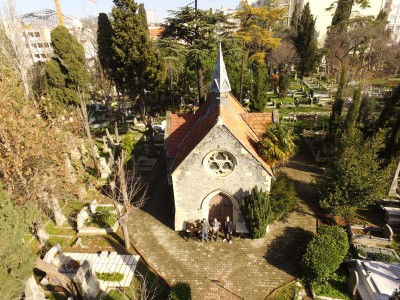 We are offering an opportunity to participate in a heritage project to preserve, document, and study a 19th/20th century Protestant Cemetery in Istanbul, an interesting and unique heritage of foreign/minority communities in Turkey. This experience will provide practical skills in the study, conservation and management of a heritage site, allow students to use various techniques and instruments and collaborate with other students and professionals involved in this project.

This internship is for 3 to 4 weeks in June-July 2020 in Istanbul for undergraduate and graduate students enrolled in a university in the Netherlands. The internship offers accommodation at the NIT and a travel allowance of 200 euros. We are looking for interns who are interested in cultural heritage conservation and management and are able to work independently as well as part of a group. Ideal candidates would have the ability to collect data, write reports, and maintain working relationships at local, national and international levels. Strong organizational capacity, excellent interpersonal and verbal/written communication skills, as well as intermediate computer skills, are required. Photography and GIS skills are welcome but not required.
Please email a one-page letter of intent explaining your interest in the project and a CV by April 19th, 2020.

For more information please visit our website at http://www.nit-istanbul.org/projects/the-ferikoy-protestant-cemetery-initiative and/or email c.abi@nit-istanbul.org