19 Mar '22
Lecture
Online Lecture 'Artistic Identity and its Representation of Contemporary Artists from Turkey in Dutch Art Ecosystem'
NIT cordially invites you to the online lecture 'Artistic Identity and its Representation of Contemporary Artists from Turkey in Dutch Art Ecosystem' by Nesli Gül Durukan on 24 March 2022 at 19.00.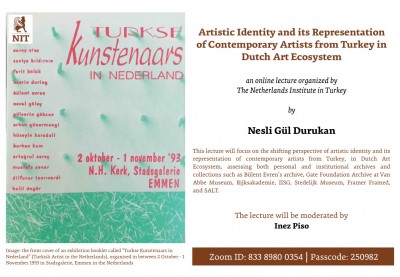 This lecture will focus on the shifting perspective of artistic identity and its representation of contemporary artists from Turkey, in Dutch Art Ecosystem, assessing both personal and institutional archives and collections such as Bülent Evren's archive, Gate Foundation Archive at Van Abbe Museum, Rijksakademie, IISG, Stedelijk Museum, Framer Framed, and SALT.
The lecture will be held in English.
No registration is required for this event. You can use the Zoom ID 833 8980 0354 and Passcode 250982 to join the lecture. Or click here for the Zoom link.
Image: the front cover of an exhibition booklet called "Turkse Kunstenaars in Nederland" (Turkish Artist in the Netherlands), organised in between 2 October - 1 November 1993 in Stadsgalerie, Emmen in the Netherlands