Archaeological Heritage and Liveable Cities
A graduate course organized by the Netherlands Institute in Turkey (NIT), in collaboration with Middle East Technical University (METU), Cultural Heritage Agency of the Netherlands (RCE), LDE Centre for Global Heritage and Development, and with the support of the Netherlands Consulate-General in Istanbul. The third edition of the Urban Heritage Lab Autumn Course will focus on archaeological heritage in urban contexts. APPLY BY 13 AUGUST 2023!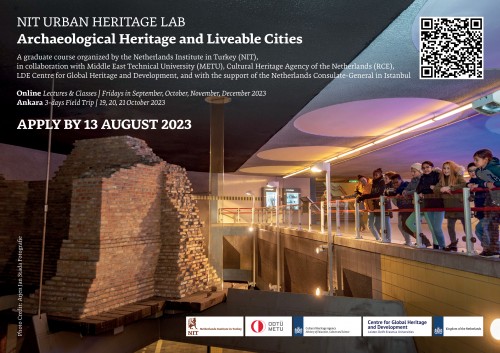 The third edition of the Urban Heritage Lab Autumn Course will focus on archaeological heritage in urban contexts. Archaeological remains in multi-layered historical cities have the power to connect today's inhabitants with their predecessors of centuries or even millennia ago. However, integrating archaeological remains into the urban fabric, and enabling them to present narratives of past urban life poses significant challenges to archaeologists, heritage managers, urban planners and designers.
During the course, 20 selected graduate students and junior professionals from universities and institutions in the Netherlands and Turkey will learn from international experts and will conduct a research-by-design assignment on a current case study. The course has a hybrid format, with weekly online meetings and three days of in-person site visits in October. Applications are welcomed from any discipline, including archaeology, urban history and geography, (conservation) architecture, city planning, landscape design, governance etc. Students and recent graduates not affiliated with Dutch or Turkish institutions can apply but will only be admitted if there are places available. The language of instruction is English.
Costs
There are no tuition fees. Fellowships that partially cover travel and accommodation expenses (upon successful completion) will be provided for graduate students as well as recent graduates who
obtained their diploma after June 2023 and do not have a regular income. Please refer to the information kit for details about the fellowships.
Course Format and Tentative Schedule
The course runs from mid-September through mid-December 2023 and is set up in four parts:
PART A | Defining the Issues: Weekly Online Public Lectures by Researchers from the Netherlands and Turkey
15 September – 22 September - 29 September - 6 October - 13 October 2023 [Fridays at 16.00-18.00 / Istanbul time]
PART B | Field Survey in Ankara
19-20-21 October 2023
PART C & D | Developing a Proposal for an Archaeological Heritage Site in Ankara with Online Discussions & Online Public Presentations by Researchers and Professionals from the Netherlands and Turkey
3 November - 10 November - 17 November - 24 November - 1 December - 8 December - 15 December 2023 [Fridays at 16.00-18.00/ Istanbul time; independent and group work, 4-8 hours per week]
Detailed information about the course is available in the Information Kit.
The application deadline is 13 AUGUST 2023, Sunday at 23.59 PM (Istanbul time)! You can find the application form here.
The results will be announced on 30 August 2023.
If you have any queries, please contact the course coordinator Dr. Aysel Arslan.