Istanbul Up Close. A Walking Survey of a City's Social and Political History
NIT and Turkey Studies Network offer a summer course on Istanbul between June 8 and June 23, 2023.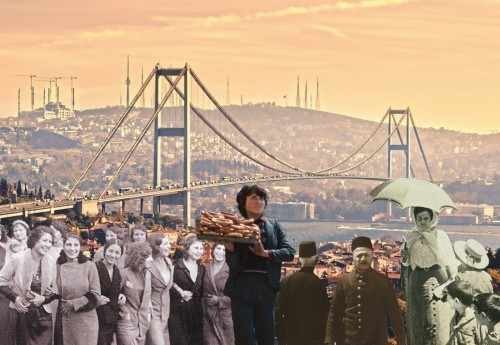 Istanbul Up Close. A Walking Survey of a City's Social and Political History
Summer School organized by the Netherlands Institute in Turkey & Turkey Studies Network
Part 1: 8 June, Leiden & self-study
Part 2: 12-23 June, Istanbul
Application deadline: May 7, 2023
Istanbul Up Close is an introductory course that unravels the city's past hidden underneath it's well-known areas and landmarks, by exploring the city on foot. This past, intertwined with the political and social history of Turkey, will help students understand not only the dynamics of an ever-changing urban scene of a millennia-old city but also the political transformations of a country that this year marks its 100th anniversary since its foundation in 1923.
While investigating the multi-layered history of Istanbul, the course also provides conceptual and methodological tools to examine urban transformations over the long term. These tools have relevancy beyond Istanbul, helping to understand and decipher the complex dynamics of urban areas around the world, to analyze how the past shapes and informs present-day local, national and international politics, and how alternative, hegemonic and counter-hegemonic narratives are produced in relation to urban space.
For Whom
Intended participants are actively enrolled in a university in the Netherlands that have completed at least 2 years of BA study. There is a maximum of 15 places.
Students from any discipline can apply, but the course is especially relevant for students in the humanities and social sciences, including history, art history, classics, area studies (Turkish, European, Middle Eastern), geography, urban sociology, political sciences and international relations, heritage studies and related disciplines. Preference will be given to applicants that can demonstrate how the course will contribute to their ongoing academic studies and research.
Important note: This course is physically demanding as it is based on walking and includes a number of days spent mostly on foot in strenuous conditions.
Program and instruction
The course consists of two parts. Part 1 will take place in Leiden, the Netherlands (8 June) and consist of a lecture program on Late Ottoman and Turkish political and social history. There are also compulsory readings to do before part 2.
Part 2 will take place in Istanbul (12-23 June), and is based around a series of seven walking days with on-site lectures and discussions, covering different parts of the metropolitan area. In addition, there are assignments, as well as literature study and the writing of an essay. A detailed program will be provided to accepted participants.
Before the course starts, on May 15 from 14:00 to 15:00 (Amsterdam time), there will be a compulsory online introductory meeting. Participants are expected to do preparatory readings before the start of the course.
The course is taught by academics with an in-depth knowledge of Turkey and Istanbul. The language of instruction is English.


Course load and credit
The course load is 168 hours, equivalent to 6 EC at advanced BA level. Students who wish to obtain academic credit upon successful completion of the course have to make arrangements for this with their institution's examination board. Students wishing to take the course as an MA level course, should indicate this at the time of their application. Assessment will be based on active participation (50%) and a final essay (50%).
Costs
There is a tuition fee of 200 euros. In addition, participants have to cover their own travel and accommodation costs, health and travel insurance, as well as living expenses during the course. Admission to the course is only final following the payment of the tuition fee.
During the online meeting on May 15, there will also be time to ask questions about finding accommodation and other practicalities.


Application
An application to participate in the course consists of three documents:
• Application form (download here)
• Motivation letter
• CV
These documents should be sent by email to Dr. Aysel Arslan: aysel.arslan@nit-istanbul.org by May 7, end of day at the latest. Late or incomplete applications may not be taken into consideration.
Applications will be informed whether they have been selected by May 12.
More information
All questions regarding the course can be addressed to Dr. Aysel Arslan via email: aysel.arslan@nit-istanbul.org.