Changing Narratives and Practices of Humanitarianism in the Context of Displacement in Istanbul, Turkey
Tsjalline Boorsma (University of Amsterdam)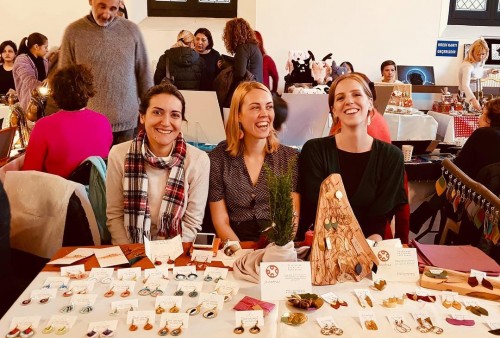 At the Handmade Istanbul market selling 'Drop Earrings Not Bombs' created by Syrian women at the social enterprise of the NGO.
In the fall of 2018, I did three months of fieldwork about humanitarian assistance to Syrian refugees at a small NGO in Istanbul, Turkey. During this period I had the opportunity to be a research fellow at the NIT, which greatly contributed to my positive research experience. I was a resident at the institute for one month, which was a great chance to meet other students and professionals. In the beginning, I was invited to give a presentation of my research plans and received valuable feedback and questions, which helped me to sharpen the focus of my fieldwork. The always calm and quiet NIT library was the perfect place to transcribe my interviews and type out my notes. After that enjoyable first month, I moved closer to my fieldwork site, but I was happy that I could continue to stay involved with the NIT, through lectures, conferences and meet-ups. By the end of my stay in Istanbul, I gave another presentation at the NIT, this time with my first fieldwork results.
To understand the background of my research in Istanbul, I have to take you back to 2015, to when I came to Istanbul for the first time as an exchange student at Boğaziçi University. This was the time when the Syrian refugee crisis was all over the news and I could see effects of this massive displacement with my own eyes on a daily basis. I decided to write my Bachelor Thesis about the Turkey-EU deal, which was meant to stop irregular migration into the European Union. I was critical of this deal, as I thought it would do little to actually help those displaced by war. As I was feeling frustrated by the EU's failure to respond to the refugee crisis adequately, I decided to take action and becoming involved as a volunteer in an NGO for Syrian refugees in Istanbul. In 2017, I started the Research Master Social Sciences at the University of Amsterdam. I knew that I wanted to do research related to the Syrian refugee crisis. I decided to do my fieldwork at the same organization where I was a volunteer two years before. However, instead of focusing on the experiences of refugees in Istanbul, I wanted to turn the focus towards the humanitarian assistance to refugees. My own experience as a volunteer had raised many questions about humanitarianism, altruism, helping, volunteerism, organization structures and idealism in daily practice. In these three months, I have conducted twenty in-depth interviews with humanitarian workers and volunteers. I have also done extensive participant observations of the NGO's activities and daily practices, which include language clubs (in Arabic, Turkish and English), homework support and other after-school activities for children.
In my interviews with volunteers and staff members of the NGO, I wanted to know more about their motivation to be involved in humanitarian aid and their experiences in this organization. There was a common pattern: all these humanitarian workers want to 'do something' practical to make a positive impact in their work. Most of them are young, highly-educated people with an international outlook, the majority non-Turkish. Their work at the NGO is deeply meaningful to them, it gives them a sense of community and family, which is an important social need in this urban environment where one can easily feel like a stranger, especially as a foreigner. These humanitarian workers are critical of the idea of 'being needed', as they felt that their involvement with this organization was more of an engaging social experience, a meeting of cultures and backgrounds, making new friends, learning new languages…They wanted to make themselves useful for others, to help where necessary, but they also expressed that their motivation to be involved came from their own particular interests, for example in working with children or doing something creative.
In the end, this research project was also very personal, as I lived together with my research subjects, shared the office working space as colleagues and participated in many of the activities, meetings and events that were part of the daily business of this humanitarian organization. The results of this fieldwork are still in process of being written into a Master Thesis, but for now I can already say that I couldn't have wished for a better fieldwork experience, also with many thanks to the NIT for their support and interest in my research project.