Local Identities and Transnational Notions: Foreign Intervention in LGBTI+ Activism in Turkey
Selin Tuzgöl, Leiden University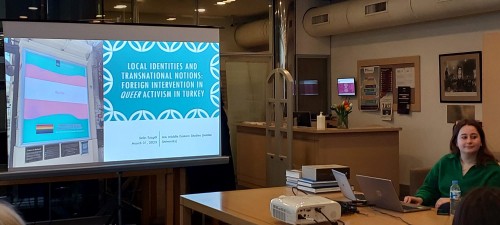 Four weeks have passed so quickly, it was a pleasure to be a fellow at the NIT to work on my Master's thesis (Middle Eastern Studies, Leiden University). Staying in Istanbul, being surrounded by and becoming part of the society you are studying is one of the best ways possible to work on your thesis. During my time at the institute, I worked on my research project which focuses on Dutch government funding for LGBTI+ activism in Turkey. With this research, I aim to understand the dynamics of interaction between local LGBTI+ identities and transnational networks. I attempt to discover how civil society and democracy promotion by aid-giving governments, such as the Netherlands, impact the internal dynamics of civil society organizations and how this relates to more grass-root local activism and daily life experiences.
The stay at the NIT offered me the opportunity to do fieldwork in Istanbul. Staying in the city gave me the chance to meet several LGBTI+ individuals, among some of them activists, in Turkey and interview them. Furthermore, it enabled me to better understand the experiences of the participants by learning about the context in which these experiences take place. Being in Istanbul helped me to get a glimpse of the internal dynamics of the LGBTI+ community in the city, which enriched my data and analysis.
Being a fellow at the NIT has been an amazing experience. The institute with its great location offered a perfect space to study and for some of the interviews. The beautiful apartment, that was located within only one minute's walking distance from the institute, offered a perfect space for resting after studying in the NIT library. I would like to thank Fokke and Aysel for their support and hospitality during my stay in Istanbul. I will miss all the delicious lunches we had together with the other fellows and NIT affiliates. Also, I would like to mention the great feedback I got after my presentation which helped me to develop my research in greater detail.