No Seat At The Table
Minem Sezgin (recipient of the Stimuleringsfonds/ Creative Industries Fund NL)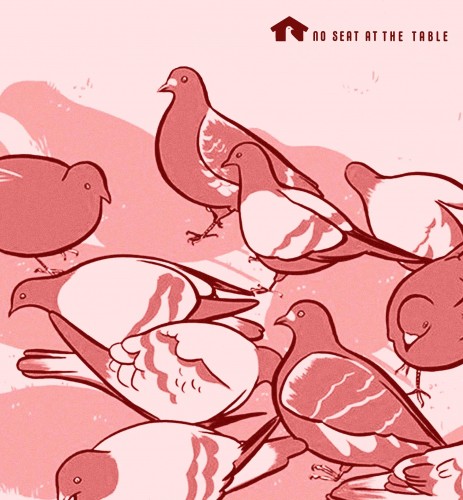 "No Seat At The Table" is a fictional graphic novel based on residential displacement during and after urban transformation in the various cities of Turkey and The Netherlands. The aim behind the project is to raise awareness and engagement for more inclusivity, sustainability and affordable living for all in the cities. The book is created by international and multidisciplinary efforts of creatives, illustrators, designers, architects, and with the contributions of urban sociologists, filmmakers, photographers, and activists. Throughout the stories, it is enquired how inclusivity and existing social networks amongst the residents in selected neighborhoods are influenced by neoliberal urban planning policies and projects. Unique characteristics of these neighborhoods and global essences of neoliberal urban planning are elaborated to show both the similarities and differences in residents' experiences.
The team behind "No Seat At The Table" consists of Minem Sezgin (scriptwriter, photographer, project leader), Jasmijn de Nood (illustrator of Amsterdam), Rajab Eryigit (illustrator of Istanbul), Bob Mollema (illustrator of Utrecht), Erhan Muratoglu (illustrator of Ankara) Murat Otunc (the book designer).
Minem Sezgin is the founder, scriptwriter and photographer of No Seat At The Table. She is a self-taught (visual) storyteller and social innovator. So far, she has been involved in artistic, cultural and/or social projects that aim to bring an added value to society. As a visual storyteller, she writes and photographs moments with a deeply personal touch to create more empathy among people. She coordinates projects and partnerships (network & collaborations). Every now and then, she also gives talks and hosts events and/or festivals like Nederlands Film Festival Some of her articles were published in various art and culture platforms such as Mister Motley Magazine, Bant Mag. and Zitlar Mecmuasi.