Tophane Heritage Project
The Tophane Heritage Project investigates urban change in the Tophane neighbourhood of Istanbul and the role of cultural heritage – material as well as immaterial – in processes of social, economic and physical change. The project was started by the NIT in 2012, directed by Karin Schuitema.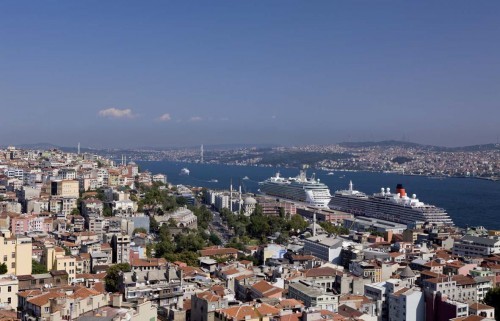 From a historical perspective, the neighbourhood of Tophane is, and has been, one of the most dynamic areas in Istanbul. Part of the Beyoğlu district, located between Cihangir and Galata, the area was renowned for its multi-ethnic and multi-cultural composition. The interdisciplinary research project of the NIT aims to create a Tophane biography, or biographies, and to provide opportunities for innovative research on buildings and places, people and memories.
The area
Tophane is situated in the European part of Istanbul, along the Bosporus and just outside the former walls of Galata (now Karaköy). During Ottoman times the area was an important industrial zone, including army barracks, and inhabited by a variety of ethnic and religious communities; Greeks, Armenians, Jews and Muslims. As an important harbour area, many foreigners and foreign goods would come ashore at Tophane. In the course of the first decades of the Turkish Republic most of the non-Muslim minorities left or were forced to leave the city. Uninhabited houses in Tophane were reinhabited by migrants, many from eastern Anatolia, and new houses were built in the neighbourhood. The historically turbulent environment provides the area with a variety of pasts to be studied. Both in past and present, Tophane has been subject to rapid urban and social change, which resulted in differing and conflicting perceptions of the area.
The heritage project
In 2012 the NIT started the Tophane Heritage Project as a mainstay for interdisciplinary research focused on Ottoman and contemporary Turkish history, heritage and society. The area of Tophane provides opportunities for researchers and students in history, art history, heritage and cultural studies, Turkish studies, sociology, social geography, urban studies, and architecture and related fields. Due to the highly heterogeneous history and social composition of the area, research on Tophane also provides excellent opportunities for scholars in the field of oral history and social memory. Within the research project, the NIT posits itself as a facilitating partner for innovative research, connecting and assisting scholars and students during their research.
Affiliated Projects
Ongoing
Constantinople beyond the Walls: Exploring the Material and Conceptual History of Byzantine Suburbs
Isabel Kimmelfield (Radboud University, Faculty of Arts, Historical, Literary and Cultural Studies)
Isabel Kimmelfield's PhD research studies the suburbs of Constantinople during the Byzantine period (330-1453). One such suburb was located in what is now called Tophane. She will be exploring the material and conceptual history of these peripheral regions and their changing relationships with the city centre, examining the limited archaeological evidence alongside written sources such as chronicles, ceremonial books, saints' lives, and legal texts. Through this approach she hopes to develop a greater understanding of not only what types of buildings stood in the suburbs of Constantinople at different points in time, but also the manner in which these regions were perceived by contemporary Constantinopolitans and their roles and meanings within conceptualizations of the city as a whole. She is interested in both Byzantine history and Constantinople specifically, as well as more generally in cultural heritage and the manner in which it functions and is treated today. To this end, she will also be considering the influence and reception of the Byzantine heritage of the former suburbs of Constantinople from the Byzantine period to the present day.
Supervisors: Paul Stephenson, Sible de Blaauw
Beyoğlu: Identity Formation in Contested History and Space 1950-2014
Enno Maessen (University of Amsterdam, Amsterdam School for Regional, Transnational and European Studies (ARTES)).
The objective of Enno Maessen's PhD dissertation research is to provide insight in the relationship of identity, space, and history in the context of historical and spatial imaginings of Beyoğlu, a pivotal district in Istanbul. His analysis of the volatile developments and contestations in the area will yield new insight into the strategies sociocultural groups use when imagining their ties or kinship with their urban district, Beyoğlu.
Supervisors: Luiza Bialasiewicz, Guido Snel
Completed Projects
Edith Ammeraal (Utrecht University, Social Geography), "Does art divide people? Gentrification in Tophane, inner-city neighbourhood in Istanbul", MSc Thesis Research Master Human Geography and Planning, Faculty of Geosciences Utrecht University, May 2012. Supervisor: Dr. Gideon Bolt.
Maaike Wentink (Leiden University, Cultural Anthropology), "Voices in the city. Urban renewal projects in Istanbul: A locus of contestations and demonstrations", Master thesis: Cultural Anthropology & Development Sociology, Leiden University, June 2014. Supervisor: Dr. J. Jansen.
Niek Zeeman (Erasmus Mundus, Master of Arts Euroculture – Europe in the wider world), "What makes up Tophane? Mental mapping in the light of the Galataport project", Master of Arts Thesis Euroculture, University of Uppsala - University of Göttingen. September 2014. Supervisors: Benjamin Martin, Martin Tamcke.