NIT Urban Heritage Lab
NIT Urban Heritage Lab is an initiative of the Netherlands Institute in Turkey that investigates the role of tangible and intangible cultural heritage in achieving inclusive, circular, and sustainable cities.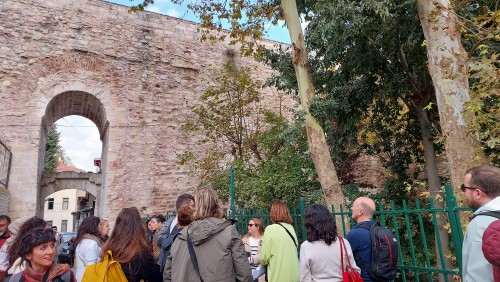 NIT Urban Heritage Lab aims to address contemporary issues at the intersections of urban life, heritage and sustainability. It starts from the notion that tangible and intangible cultural heritage is critical in maintaining the livability of cities and the sustainability of urban life. It is also convinced that cultural heritage is not a straightforward stock of historic buildings, landscapes and traditions. Cultural heritage is in a constant state of creation, selective preservation and change. It is constructed in a dialogue between past and present, and in ongoing discussions between different interests and discourses.NIT Urban Heritage Lab initiates and facilitates several interdisciplinary projects.
Urban Heritage Lab Autumn Course
Every autumn, NIT organizes a hybrid course on a topic related to a specific aspect of urban heritage. Please check Industrial Heritage for Sustainable Cities Course (2021) and Water Heritage for Sustainable Cities Course (2022) for further information about the previous courses. The topic of the 2023 course has been set as Archaeological Heritage for Livable Cities.
Dutch Embassy Science Fellowship
Dr. Mariëtte Verhoeven, a research fellow and lecturer at Radboud Institute for Culture and History (RICH), received an Embassy Science Fellowship from NWO - in cooperation with the Ministry of Foreign Affairs. For three months, Dr. Verhoeven worked at the Dutch Consulate General in Istanbul and the Netherlands Institute in Turkey to develop an integrated model for increasing public awareness and preserving Istanbul's water heritage. We co-organized a workshop with Mariëtte Verhoeven and the Dutch Consulate General in Istanbul entitled Engaging with Istanbul's Water Heritage: Exploring Sustainable Ways to Create Public Awareness Workshop on 22 September 2022 to discuss and formulate solutions to raise awareness of Istanbul's water issues by engaging with its heritage with specialists from diverse backgrounds.
Cultural Heritage Technologies for Sustainable Cities
The Cultural Heritage Technologies for Sustainable Cities Project (2020-2021) builds an interdisciplinary network to address contemporary challenges for urban cultural heritage in fast-developing cities like Istanbul.
Perceptions of Istanbul's Historical Monuments Survey
In collaboration with Istanbul Technical University, NIT has created a survey to understand people's perceptions of Istanbul's historical monuments.
Fethiye Camii as a Cultural Heritage Site
Istanbul's religious cultural heritage includes the material remains of some thirty former Byzantine churches and chapels, which have survived in different conditions, forms and functions. The building that is called Fethiye Camii, which is located on the fifth hill of the city's historic peninsula in the neighbourhood of Çarşamba, was built in the 12th Century as the Church of the Pammakaristos and was transformed into a mosque in the late 16th Century. While the main building is still in use as a mosque, the side chapel (beginning 14th Century), and a part of the ambulatory that enveloped the church have been restored between 1949 and 1963 and now function as a museum showing Byzantine mosaics. See the project here.
Tophane Heritage Project
The Tophane Heritage Project investigates urban change in the Tophane neighborhood of Istanbul and the role of cultural heritage – material as well as immaterial – in processes of social, economic and physical change. The project was started by the NIT in 2012, directed by Karin Schuitema.